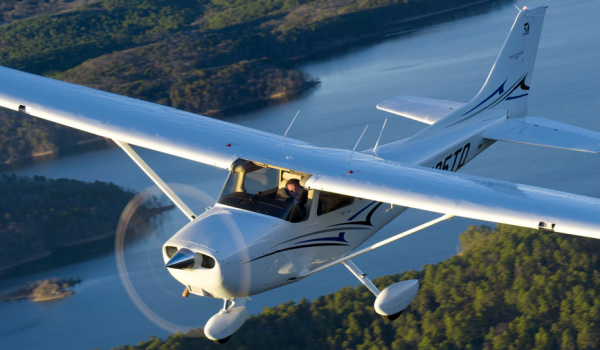 Follow-on order for Cessna Skyhawk aircraft to fue
Publicado a 2015-07-29
---
OSHKOSH, Wis. (July 24, 2015) – Cessna Aircraft Company, a subsidiary of Textron Aviation Inc., a Textron Inc. (NYSE:TXT) company, today announced at the EAA AirVenture in Oshkosh, Wisconsin, that it has secured an order for six Cessna Skyhawk 172 aircraft from Shandong Hairuo General Aviation Co., Ltd. in China. This fleet represents the second order of Skyhawks placed by Shandong Hairuo General Aviation this year. During the Asian Business Aviation Conference and Exhibition (ABACE) in April, the company announced an order for two Cessna Skyhawks to be used for pilot training in China.

"The opening of China's low-altitude airspace has boosted the pilot training market in the region, and this additional order further demonstrates the Cessna Skyhawk's continued leadership in pilot training around the world," said Kevin Wu, vice president, International Sales, Greater China and Mongolia Region.

Shandong Hairuo General Aviation is based in Binzhou city, Shandong province, China. It is a Part 91 general aviation operator, as well as an authorized sales representative and an authorized customer service facility for Cessna single-engine aircraft in China. It currently operates a fleet of four Skyhawks and is looking to provide Part 141 training for personal, commercial and airline pilot licenses.

"The world renowned Cessna Skyhawk is the optimal choice for flight training," said Chen Maosen, chairman of Shandong Hairuo General Aviation. "The new aircraft will join our existing fleet for expanding our business in pilot training. As the authorized sales representative and customer service facility for Cessna aircraft in China, we are devoted to the future of the general aviation sector, and reinforce the cooperation with Textron Aviation for a win-win solution for our customers."

About the Cessna Skyhawk 172

The Skyhawk is the world standard for pilot training and is renowned for offering the best combination of modern features, including the G1000 avionics system, and proven dependability. The aircraft's high-wing design enables superior flying characteristics ideally suited for pilot training. More Skyhawks have been delivered to customers around the world than any other type of aircraft, with more than 48,000 in service since 1955.

Find Cessna Skyhawk information on our website at Cessna.txtav.com.
Galeria
Outras notícias
Comprar
Deseja ver ou comprar artigos desta Marca ou Empresa?
Ir para a Loja
---
Orçamento
Deseja fazer um pedido de orçamento ou cotação a esta Marca ou Empresa?
Pedir Orçamento
---
Catálogos