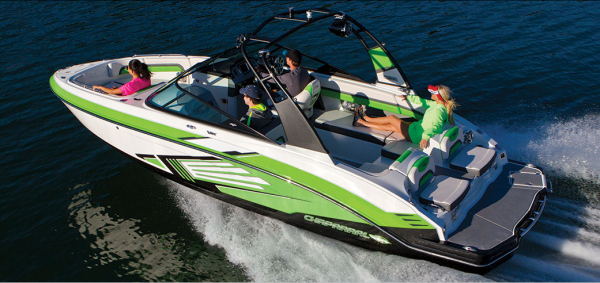 243 Vortex VRX Your Wildest Dreams
Publicado a 2015-07-30
---
It'll Make Your Blood Boil
Our new top of the line 243 VRX jet rates as one of the finest sport boats ever introduced in Chaparral's 50 year history. The boat is that special. Twin engine power excites and delights. Buyers can select from twin 200 or 250 Rotax 4-TEC ECT engine options. No matter how you dial in the power, when the throttle goes down you'll enjoy G-forces rarely experienced on the water. Throttle response is right now. Control, particularly in demanding turns, is pin-point accurate. Weekends will be a non-stop party on the water. U-shaped seating says "welcome aboard." Extensive storage space keeps everything tidy. An enclosed head is a welcome plus on long-distance jaunts. The standard high-tech dash can be upgraded with a new optional 6.5" Medallion color touch screen panel. The boldest graphics in the jet boat world are even more striking when they stretch across the boat's 24' centerline. A standard black or white Folding Arch Tower adds the perfect high performance accent. One thing is certain...nobody will doubt that you're in a Chaparral.
Ride An Endless Wave. New Aerial Surf Package

The question is "Can you surf behind a Vortex jet boat?" The answer is ABSOLUTELY YES. Chaparral's game changer Aerial Surf Platform (ASP) option recently earned The National Marine Manufacturer's Association 2015 Innovation Award. It's that new. It's that revolutionary. The new optional Surf Package includes the platform and three onboard ballast tanks. Buyers can also opt for the ballast only. This breakthrough technology completely reshapes the wake for maximum surfing potential. Taking full advantage of the performance and safety features of a jet drive, our Vortex Series now offers buyers the ultimate watersports tow vehicle. Just think, you can now ride an endless wave at a fraction of the cost of a traditional inboard surf boat.

Galeria
Outras notícias
Comprar
Deseja ver ou comprar artigos desta Marca ou Empresa?
Ir para a Loja
---
Orçamento
Deseja fazer um pedido de orçamento ou cotação a esta Marca ou Empresa?
Pedir Orçamento
---
Catálogos