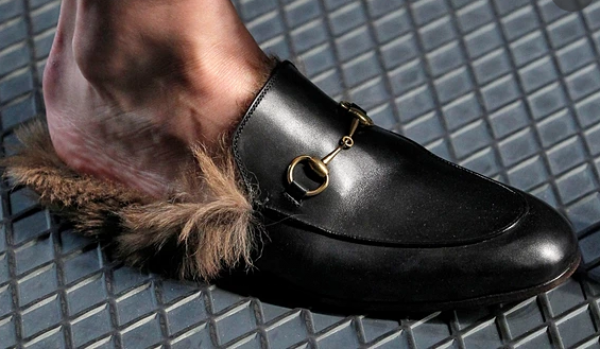 Super furry Gucci loafers: why these daft shoes are autumn's defining item
Publicado a 2015-09-13
---
You will have noticed that the fashion industry has started its new term. The glossy mags are spewing out trend reports left and right, and there are apparently 158 ways to wear a coat and about 732 must-haves this season. We've chipped in with our own rather excellent synopsis, too. But what if you're not so fussed about Tenenbaum chic and the nuance of the 80s revival? What if you take the CEO approach to your wardrobe and just want to bark: "autumn fashion: what is it?" Well, the really, really digested view of this season's fashion is basically three words: Gucci Furry Loafer.

Important caveat: you won't be actually wearing a pair. No chance. They cost at least £650 and the first drop has long since sold out, well, just about everywhere. The waiting list for the second drop is far too long to join. People much, much cooler than you are wearing them on Instagram. With elegant feet and smug hashtags. But even so, you need to know about them for the same reason I have no interest in football and yet I vaguely know that some teenager is "worth" £36m to Manchester United. Actually, it's much more important than that. You need to know about them because when the weather is cold and crap, it will be a bastardised (and unfurry) descendant of the Gucci loafer that will keep your feet dry at the bus stop.

The Gucci furry loafer is undoubtedly the fashion totem of Autumn 2015. Once you've seen them, you will remember them. In the flesh, they are as counterintuitive as they sound on paper. The front part is that classic mid-shine Gucci loafer shape, with a horse-bit snaffle that harks back to the 80s, while the inside and the back are like a pair of slippers or a squashed children's TV puppet. They're Dot Cotton meets Sloane Street; Nora Batty getting busy on the trading floor. Totally ludicrous. God, I want a pair.
It isn't the first time high fashion has made a case for the furry inner sole. In autumn 2012, Céline designer Phoebe Philo showed a court shoe with a real fur inside, which was immediately compared to Meret Oppenheim's Breakfast in Fur. A pair of fur-lined Birkenstock-ish sandals from the same collection were a pivotal moment in haute slipper chic. Of course, detractors pointed and sneered at their weirdness and impracticality, but a couple of seasons later, actual Birkenstocks were doing a brisk trade in sheepskin-lined sandals. Despite these recent forays into furry-shoe territory, Alessandro Michele, Gucci's recently installed designer, has been credited with making the furry shoe all his own. He has also managed to transform the kudos of the entire Gucci brand from luxury blah to the label which will trump all others on the front row, when the catwalk posturing really gets going at the end of this week.

Why, then, does high fashion hanker for slipper-like shoes that are the polar opposite of glamorous high heels? It certainly isn't to be fun or kooky, despite the Dougal-like qualities of the loafers. A quick survey of the frow ranks confirms this theory. It's seems it's more about defiant confidence, something that trumpets your importance. One catwalk sage told me it signified a certain arrogance – if you are in a lowly or mundane job in fashion, you often still have to conform to a certain idea of "smart", whereas anyone in these furry loafers is like, "Dude, I'm above that."

So what does this mean for real wardrobes built by Zara, M&S and Whistles? Physically, these furry shoes are hard to replicate, fun as it will be to watch the high street give it a go. More likely is that the unfuzzy loafer will enjoy a renaissance. Designers Luella Bartley and Katie Hillier's new label Hillier Bartley is already flying the loafer flag. Their tassel-heavy, Savile Row-meets-Duran Duran collection is styled with white socks, low-shine loafers and trousers pushed up to the ankle. The look is sneaking into fashion circles fast. You may not be ready for such footwear challenges, but it's odds-on that, in a few weeks, you will be ready to push aside your Sloaney/New Romantic preconceptions and be ready to welcome a pair of loafers into your life.
Outras notícias
Comprar
Deseja ver ou comprar artigos desta Marca ou Empresa?
Ir para a Loja
---
Orçamento
Deseja fazer um pedido de orçamento ou cotação a esta Marca ou Empresa?
Pedir Orçamento
---
Catálogos