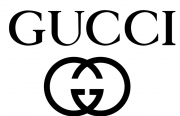 Gucci
---
Gucci is one of the world's preeminent luxury brands, recognised the world over for its fashion innovation and impeccable Italian craftsmanship.
Ever since Guccio Gucci founded the house in Florence in 1921, the brand has been a destination for the world's most discerning men and women, representing at once contemporary glamour and traditional Made In Italy craftsmanship. Gucci designs and produces women's and men's ready-to-wear, handbags, small leather goods, travel accessories, footwear, fine jewellery, watches, eyewear, fragrances and cosmetics, children's clothing as well as other timeless lifestyle items.
Every Gucci piece carries with it close to a century's worth of artisanal quality and unparalleled design. To learn more about the brand's 94-year history, visit The House of Gucci.
As Gucci enters the next century of activity, it's taking a strong position on corporate responsibility. From sustainability to philanthropy, Gucci is committed to its role in the global community.
It voluntarily obtained SA8000 certifications, focused on working conditions and practices. Dually, it's actively involved in philanthropic initiatives that support both women's and children's rights and the arts.
In 2005, the House entered into a long-term partnership with UNICEF and since then has committed close to $20 million in support of the organisation's women's and children's programs in Africa and Asia.
In 2013, Gucci founded Chime For Change, a global initiative dedicated to raising funds and awareness for girls' and women's empowerment.
Gucci also collaborates with the Kering Corporate Foundation in its efforts to combat violence against women.
Galeria
Produtos e Serviços
---
Gucci is one of the world's leading luxury fashion brands, with a renowned reputation for creativity, innovation and Italian craftsmanship.
Gucci is part of the Kering Group, a world leader in apparel and accessories that owns a portfolio of powerful luxury and sport and lifestyle brands.
Localização
---