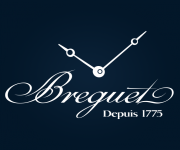 Breguet Luxury Watches
---
Montres Breguet
The absolute reference in Haute Horlogerie since 1775, Breguet combines exceptional expertise in the mastery of complex Grandes Complications watches and a peerless historical heritage, augmented in a ceaselessly modern, innovative spirit, sustained today under the leadership of its President and CEO, Marc A. Hayek.
Inventions and innovations
Breguet is acknowledged by even its most distinguished competitors as the watch house having contributed the most to the advancement of Haute Horlogerie.
Breguet contributes to the heritage and culture of Europe through partnerships with St.Petersburg's Hermitage Museum, the Château de Versailles and Louvre in Paris plus numerous philharmonic orchestras and many others.
Famous patrons
Queen Marie-Antoinette, Napoleon Bonaparte, Talleyrand, Selim III, sultan of the Ottoman Empire, Caroline Murat, Tsar Alexander I, Queen Victoria, Winston Churchill all succumbed to the art of Breguet.
Breguet in literature
Literary figures mentioning Breguet in their writings include Stendhal, Mérimée, Pushkin, Balzac, Alexandre Dumas, Thackeray, Victor Hugo, Kuprin, Max Jacob and Patrick O'Brian.
Galeria
Produtos e Serviços
---
High end swiss luxury watches
Haute Horlogerie and highly complicated timepieces
Exclusive high jewellery
Localização
---