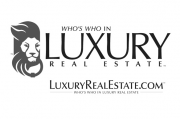 Luxury Real Estate
---
"Who's Who in Luxury Real Estate is a compendium of the finest residential real estate firms from around the world. LuxuryRealEstate.com offers access to the most multi-million dollar properties.
As I meet brokers around the world, I continue to be profoundly impressed by the quality and integrity of the people in our network. Each year we set high goals and work diligently to improve in every way. I am confident that doing business with any one of our members would be a delightful and rewarding experience. Each year I travel the world; the villages of New England, the resorts and cities of the East Coast, the great state of Texas and the Gulf, the deserts of the Southwest, the grandeur of the Rockies and America's heartland, and to Europe, Asia and beyond. As a result of this effort, we have the most internationally diverse network available to real estate professionals.
To be eligible for membership, firms and brokers must list and sell in the top 10 percent of their market and demonstrate expertise in the marketing and sale of luxury properties. With the guidance of the Board of Regents (Regents.com), the governing body of Luxury Real Estate, our network represents the best in the business."
- John Brian Losh, Chairman/Publisher
Galeria
Produtos e Serviços
---
ABOUT LUXURYREALESTATE.COM
LuxuryRealEstate.com, a Webby Award Honoree, has been voted 'Best of the Web' by Forbes magazine multiple times, praised by the International Herald Tribune, Town & Country, The Wall Street Journal and has been ranked 'Best Website' by consumer surveys. Since its debut in 1995, LuxuryRealEstate.com has remained the #1 portal for luxury properties on the internet and has several times more $1,000,000+ content of any near-peer.
Known in the industry since 1986 as the Who's Who in Luxury Real Estate network, a global collection of the finest luxury real estate brokers in the world, this group of more than 130,000 professionals in more than 60 countries collectively sells in excess of $128 billion of real estate annually. Members are selected by Chairman/Publisher John Brian Losh, one of REALTOR Magazine's 25 Most Influential People in Real Estate and broker of fine properties and estates through his Seattle-based brokerage firm, Ewing & Clark, Inc. Luxury Real Estate has been recognized by the Webby Awards, has received "Best of the Web" by Forbes Magazine, honored with an ADDY Award for Excellence in Web Design, deemed "Best Website" by consumer surveys, ranked in the Inc. 5000 List, noted as one of the 100 Fastest Growing Private Companies by Puget Sound Business Journal, and recognized by the Maggie Awards.
Localização
---