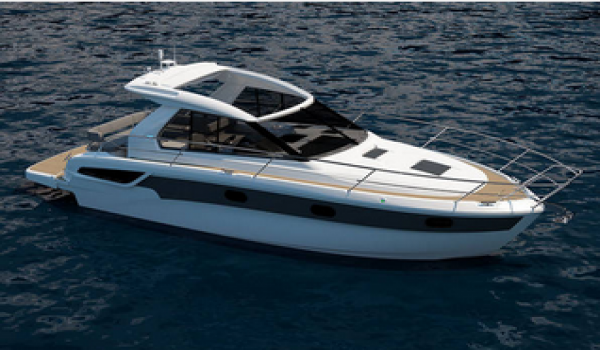 SPORT 330 HT – ENJOY THE ELEMENTS – UNDER COVER OR EXPOSED
Publicado a 2015-09-20
---
The SPORT 330 HT has a flexible convertible hard top that folds down to create a convertible in no time at all. Feel the freedom of the sun and the summer wind in the cockpit.The SPORT 330 HT offers unmatched diversity – the cockpit has a wet bar, large seating area that can be converted into a sunbed in a jiffy and a passenger seat for two at the helm.

A clever hull design in stable sandwich construction and a high freeboard ensure safety and precise handling of the SPORT 330 HT. A SPORT 330 HT is pure driving fun, that is what it was built for and it was with this in mind that the engines were designed with optional capabilities. Safety over design is also the motto on deck, where broad gunwales, handrails and a railing that extends from bow to stern guarantee safe footing for crew and guests alike.

The cockpit - Space to live:
To relax outside on a sunny day, lower the table in the cockpit of the SPORT 330 to create a generous sunbed area. There is space around the sizeable cockpit table for up to six people to enjoy a drink or dinner in the evening sun. The SPORT 330 HT is a motor yacht on which guests and friends are welcome at any time.

Closed and open:
The SPORT 330 HT is the perfect motor yacht for those who want to enjoy a long season at sea. The soft top protects against sun and wind, allowing the elements into the cockpit when you feel like it. Another new feature of the SPORT 330 HT is the space for the passenger seat. There two people can enjoy the wind in their hair and the view ahead together.

Licence to play:
Below deck, up to six people are comfortably accommodated in the living room and in the newly remodeled cabin. Attention to detail, experience and technical standards of the highest quality were the cornerstones for the BAVARIA designers and engineers in conceptualising the interior of the new SPORT 330 HT. This applies to every detail – from the choice of fabrics and woods to the newly designed cabin. And the SPORT 330 HT has a real bathroom with shower. It's the ultimate in comfort.
Galeria
Comprar
Deseja ver ou comprar artigos desta Marca ou Empresa?
Ir para a Loja
---
Orçamento
Deseja fazer um pedido de orçamento ou cotação a esta Marca ou Empresa?
Pedir Orçamento
---
Catálogos